2019 Pinot Noir Coyote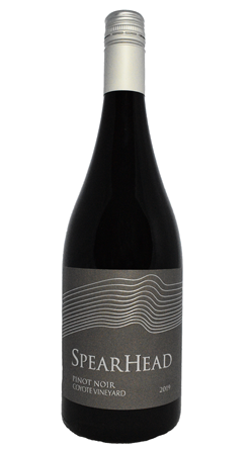 This product is exclusive to wine club members. Please log in to purchase.
Source
Fruit sourced exclusively from West Kelowna Coyote Vineyard.
Winemaking
Pinot Noir clone 115 was hand harvested, destemmed into small batches and cold soaked for 5-7 days before fermentation by indigenous yeasts. The total time on skins is 16 to 21 days. After gentle pressing, the wine completes malolactic fermentation in barrel and is aged 13 months in French oak (25% new).
Tasting Notes
A bright Pinot Noir with dark cherry, wild berry, and blackberry compote fruits. Hints of fennel, fresh forest wood and earth. Dried florals, red cherry and dried herbs linger on the tongue. This medium bodied wine has fresh energy at the finish. Pair this with sushi and Asian cuisine.
Enjoy now or cellar up to 8 years.
Production
­­­350 cases produced.
Awards

Silver - 2021 BC Lieutenant Governor's Wine Awards


Gold - 2021 National Wine Awards of Canada


Silver - 2022 Decanter World Wine Awards


Platinum - 2022 National Wine Awards of Canada
Reviews

91 points. Appearance: Bright. Semi-opaque. Light ruby colour. Nose: Smoke, black pepper, dark cherry with an herbal note. Palate: Medium acid, medium tannin, medium body. Dry. Spicy black pepper, cedar, dark cherry, blackberry, and a hint of green pepper. Well balanced. Quality: 91 points. Drink now or hold 2-3 years. Food Pairing: Filet mignon with peppercorn brandy sauce, seared backstrap with blackberry sauce, jambalaya with okra and sausage, rainbow chard and fennel salad with raspberry dressing, and Peking duck. ~ Tony Aspler - My Wine Canada

92 points. Of the three single vineyards this version holds the most appealing bouquet of sweet raspberry, lilacs, star anise, wet cedar chips and undertones of concord grape and wild herbs. Silky on the tongue with flavours of tangy red forest berries tealeaf and leather it's youthful, still needing time to coalesce. The volcanic soils are reflected in the tannins. Like all three, decanting will bring the most out in the wine. ~ Daenna Van Mulligen - Wine Scores

94 points. Quite the epic '19 that just might elicit a Hejira to claim the spoils. This is just one of those pinot noirs, you know the kind where "there's no comprehending just how close to the bone and the skin and the eyes and the lips you can get." The fruit wants to tell you its dark, enigmatic and mysterious but there's so much lift and red fruit rising. There has to be an appreciation for the levels of restraint, in alcohol and extraction. Spend time and you too will get the gist and the breezy drift."No regrets, coyote." Drink 2021-2026. Tasted June 2021. ~ Michael Godel - Wine Align

94 points. This is from a volcanic-soiled south-facing site in West Kelowna, in a somewhat cooler vintage. It is fairly deeply coloured with a ripe, fragrant nose of black cherry, well integrated spice, vanillin, dried shrub and light toast. It is medium-full bodied, refined yet lively with very fine tannin. Some alcohol heat emerges. The length is excellent to outstanding, finishing with a brush of minerality. Tasted June 2021. ~ David Lawrason - Wine Align

93 points. The nose is lovely, pure pinot, with exuberant ripe, dark berry fruit and a polished, subtle sheen of oak; complexity is building but nowhere near peak I'd say. The texture on the palate is properly grippy, with acids leading the way over gritty tannins, the whole rather succulent and juicy, with excellent length and depth. Distinctively west coast in style, with some Okanagan, and volcanic flair, delivering an extra measure of drive and complexity and succulence relative to the other Spearhead single vineyard bottlings. Volcanic Willamette Valley pinot is the closest comparable I can find. Fine wine. Best after 2022, into the late-'20s. Tasted June 2021. ~ John Szabo, MS - Wine Align

89 points. A substantially flavourful pinot noir from south facing Kelowna fruit grown in volcanic soils from Mt. Boucherie. Featuring a lovely mouthfilling texture of smooth velvet and flavours of dried leaf, ripe red cherry, tilled earth and delicate spice. Modern, clean and very distinctive of place. Tasted June 2021. ~ Sara d'Amato - Wine Align

93 points. Nice entry, effusive yet rich and inching up in aromatic intensity. Density too, a concentrated effort of red fruit, liquorice and sweet spice. One of those wines in which the palate replays with near exactitude, echoing what came first, seconded in regards to that emotion and then a continuance by finishing the way it started. Drink 2021-2023. Tasted blind at NWAC2021, October 2021. ~ Michael Godel - Wine Align

94 points. Average final score from judges at the 2022 National Wine Awards of Canada. Tasted blind June 2022. Platinum Medal. ~ National Wine Awards of Canada - Wine Align

95 points. Complex construct of pinot noir that seems to hail from an ever warming Canadian climate, safely nurtured in the hands of both farmers and makers who know what's what. Pressed off lightly and with kid gloves, fruit allowed to naturally sweeten, lift up in promising spirit and sing by virtue of grace given talent. A wonderful rise of cadence, over and over again, like a song with no chorus yet each refrain feels new, chords doubling back on one another, a constant rise in tempo without ever reaching the top. Ventures into the slipstream with pure pinot noir joy. Sell this from coast to coast to let all who imbibe enjoy. Drink 2022-2027. Last tasted blind at NWAC2022, June 2022. ~ Michael Godel - Wine Align

94 points. A second tasting, blind at the NWAC awards June 2022, yielded: "Medium-deep red ruby. Good pinot aromatics here, just a touch of reduction but mostly ripe raspberry fruit, red cherry and cherry purée. I love the fleshy fruit on the palate, so pure and vibrant, well-defined, with ample volume and palate weight, and long finish. Classic, drinking well now but no rush." In that interim I find that the wine has improved as expected, reaching nearly classic status among Canadian pinot noir - clearly there's something special about this site. ~ John Szabo, MS - Wine Align