2020 Pinot Gris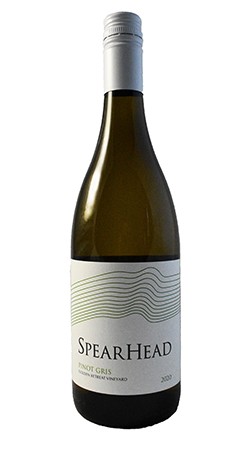 Source
Golden Retreat Vineyard in Summerland
Winemaking
The grapes are hand harvested and whole bunch pressed. 90% of the fruit is cold fermented in stainless steel the other 10% is fermented in 2-year-old French oak barrels. The barrel portion adds texture and weight to the final wine.
Tasting Notes
Orchard fruits, pink grapefruit and aromas of tangerine on the nose, followed by ripe tropical fruit, marmalade and minerality on the palate. This is a juicy and mouth-watering wine.
Production
1454 cases produced.
Enjoy now or cellar for 3 years.
Awards

Silver - 2021 National Wine Awards of Canada
Reviews

Lots of ripe stone fruit, mandarin orange and some bramble leaf on the nose. Off-dry, fuller-bodied and a thicker mouthfeel. Ripe stonefruit, citrus, minerality and a touch of honey. Bright acidity. ~ Karl Kliparchuk - My Wine Pal

90. The balance of the 2020 edition of Spearhead's popular Pinot Gris is spot on with a touch more residual sugar than recent vintages contrasting beautifully with the zesty, citrus and white peach flavours and acidity. Though, don't jump to the refreshing palate before taking time to appreciate the racy and vibrant peach-fest nose. This is the ultimate Summer sipper for its ratio of quality to refreshingness to affordability. Buy it by the case and drink it with friends, 6 feet apart:). Drink now-2023. ~ Liam Carrier - IconWines

89. Winemaker Grant Stanley prefers the tighter, sleeker style of gris, although I find this wine very accommodating in 2020 with its ripe citrus touched with honey and lees. It is all hand harvested, and whole bunch pressed, and only ten percent of the fruit is fermented in two year old French oak barrels adding a touch of texture and weight to the mix. In fact, in 2021, most of the heft comes from very ripe orchard fruits, giving it a somewhat juicy tropical front end balanced off by a mineral finish. A good year for gris, and this one over-delivers. Perfect for richer seafood dishes this year. Super value. Tasted: 16 April 2021. ~ Anthony Gismondi

90. This Pinot Gris is just as much about the succulent fruit, with honeyed stone fruits and citrus, as it is the texture. It's pithy and precise, with notable dry extract, while still approachable thanks to a hint of sweetness. Good length, with added freshness coming from a touch of effervescence. ~ Geoffrey Moss, MW - Wine Align

89. Subtle, lightly reduced, green terpene fruit. Very tacky-astringent texture, pinch of sweetness. Sweet-sour, two speeds. Tasted blind at the National Wine Awards of Canada October 2021. ~ John Szabo, MS - Wine Align