Twelve Days 'Til Christmas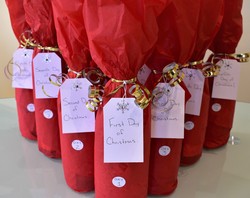 Wrapped in tissue and number to guide consumption during the holidays this year.
Includes 12 bottles of wine, one to drink each of the 12 days of Christmas.
A combination of red and white, including some library gems that are ready to drink.
Each bottle will come with a numbered tag on it, letting you know the suggested order to consume and on the back of each one you'll find food pairing suggestions.