2019 Pinot Noir Golden Retreat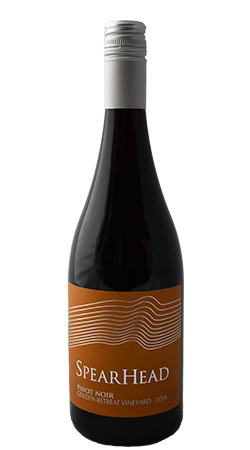 This product is exclusive to wine club members. Please log in to purchase.
Source
Golden Retreat Vineyard in Summerland.
Winemaking
Pinot Noir clones 667, Pommard, 115 and 777 are each hand harvested as ripening is reached. The cold soaking occurs for 5-7 days before wild fermentation begins. Time on skins is 16 to 21 days. After gentle pressing, the wine completes malolactic fermentation and is aged 13 months in French oak barrels (25% new).
Tasting Notes
A mix of smoked meat, plum, anise and vanilla aromas tantalize the nose. Dark fruit flavours of cassis, black currant and bramble on the palate. The wine is pleasingly ripe and structured. Pairs well with Italian style dishes, especially tomato pasted pasta and pizza.
May be enjoyed now or 8 years.
Production
440 cases produced.
Awards

Platinum - 2021 BC Lieutenant Governor's Wine Awards


Silver - 2021 National Wine Awards of Canada


Gold - 2022 National Wine Awards of Canada
Reviews

92. Of the three [sight-specific Pinots] this one has a firmer structure; notes of muddled plums and forest berries with plenty of purple flowers woven with beet greens and a dollop of honey and apricot. Like the Saddleblock, it has a silky palate, but more power, with earthy, savoury flavours and chalky tannins. Like all three, decanting will bring the most out in the wine. ~ Daenna Van Mulligen - Wine Scores

93. Golden Retreat is surely the warmest of the three sites used for SpearHead's trilogy of single-focused pinot noirs. This makes cause for the same specs involving sugar ripeness and pH though the acidity is minimally if significantly less in this case. Darkest fruit, most noticed concentration and as close to varietal hedonism as it gets in Southeast Kelowna, though within reason of course. Golden Retreat speaks to its name because it is the softest of the three, the one with the aureate and halcyon glow. Show off a bit of blood orange citrus and gives the impression of swirling a mouthful of rocks. A highly accomplished pinot noir in balance that offers a surfeited and most satiated experience. Drink 2022-2027. Tasted June 2021. ~ Michael Godel - Wine Align

92. This is from a sandy soiled, south facing site on a clifftop overlooking the lake near Summerland, on the west, cooler side of the Valley. It is quite elegant and fresh with a distinctive herbal, dusty nose, sour cherry/strawberry fruit and fine oak spicing. It mid-weight, well balanced and tightly knit with good acidity and fine tannin. The length is excellent. Tasted June 2021. ~ David Lawrason - Wine Align

92. The colour is a little paler and more red than the other single vineyard bottlings from Spearhead, and the nose is reserved and elegant, with smoldering underlying complexity not yet fully exploited. Tannins are powdery, supported by pronounced acids, not sour but assertive. Length and depth are very good overall. I'd suggest cellaring for another year or two, though long-term ageing is not required nor likely desirable in my view - the pleasure will peak in the next half dozen years. Tasted June 2021. ~ John Szabo, MS - Wine Align

92. Bright and flavourful, this pinot noir sourced from south facing vineyards near Summerland on the clay cliffs of the south central Okanagan offers both ripe and vibrant flavours. Showing a distinct, salty minerality with silky, undulating tannins on the palate. Very good length. Tasted June 2021. ~ Sara d'Amato - Wine Align
Spearhead makes some of my favourite wines from the Okanagan, and their focus on a few select varieties yields fine results and shows off some serious skills. The Golden Retreat is a little harder to find, but completely worth it, as this is a deeply layered and simply fantastic expression of the grape. Ripe fruits with a pleasing raspberry and cherry quality, and exceptional balance throughout. A wine worth stocking up on and serving to treasured guests. ~ Tom Firth - Culinaire Magazine

92 points. Average final score from judges at the 2022 National Wine Awards of Canada. Tasted blind June 2022. Gold Medal. ~ National Wine Awards of Canada - Wine Align

92 points. Bright and flavourful, this pinot noir sourced from south-facing vineyards near Summerland on the clay cliffs of the south central Okanagan offers both ripe and vibrant flavours. Showing a distinct, salty minerality with silky, undulating tannins on the palate and brimming with cherry-berry fruit. Notably complex with very good length. Best now to 2025. Re-tasted June 2022. ~ Sara d'Amato - Wine Align