2020 Pinot Noir Rosé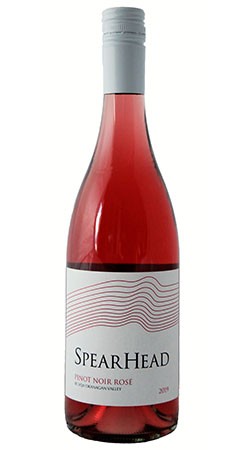 Source
Gentleman Farmer Vineyard in SE Kelowna
Golden Retreat Vineyard in Summerland
Coyote Vineyard in West Kelowna
Winemaking
Hand harvested, destemmed and crushed into small stainless-steel tanks. Cold soaked with skins for 48 hours to extract desired colour and light phenolics. Gently pressed, settled and cold fermented to dryness.
Tasting Notes
This pretty pale pink Rosé is refreshing and enjoyable on its own. Peach, blood orange, and cranberry lead into pleasant fresh fruit flavours of rhubarb, pomegranate, and citrus.
Production
542 cases produced.
Enjoy now or by the end of 2022.
Awards
New release, stay tuned.
Reviews

89. SpearHead's latest pink wine is nicely balanced and refreshing. Grown at estate vineyards in Kelowna and Summerland, the pinot noir grapes were hand harvested to produce this fruity and fragrant rosé. The flavourful style is well suited to summer sipping and al fresco dining. Drink now to 2022. ~ Christopher Waters on Wine
This easy-breezy pink by Okanagan veteran winemaker Grant Stanley, a kind of Pinot whisperer in our midst. He coaxes all the right nuances out of the variety, to ensure the grape still shines regardless of wine style. ...The resulting wine is awash with cherries, rhubarb, and watermelon, and will be a great match for summery salads. Or steak. Or creamy pastas. Or fish and chips. Or, really, anything the heart fancies. ~ Kurtis Kolt

91. Appearance: Clear, bright. Pale salmon core. Nose: Strawberry, raspberry, cherry, red apple, and hints of citrus fruit. Palate: Medium acid, light tannin, medium body. Just off-dry. Cherry, strawberry, raspberry, cranberry, and a light herbal note. Light pepper spice note on the finish. Well balanced. Quality: 91 points. Drink now or hold for a year. An excellent patio wine. Food Pairing: Duck confit crostini with parsnip purée, barbecued chicken and feta pizza, spinach salad with cranberries and goat cheese, blackened salmon with cilantro and lime rice, and prosciutto and cantaloupe skewers. ~ Tony Aspler - My Wine Canada

91. The first wine featured in Carl's Wine Club from the 2020 vintage… and a good one! This rosé is unmistakably Pinot Noir. Refreshing, bright and versatile, this medium body rosé is great on its own but shines like a diamond with the appropriate food. Citrus, nectarine and the tartness of a cherry pit and orange tea to add to the complexity and nice snappy finish. Pairing: chicken & prosciutto cannelloni, shrimp skewer. Drink now until 2023. ~ Carl's Wine Club

89. The rosé is a mix of fruit from Gentleman Farmer Vineyard in southeast Kelowna, Golden Retreat Vineyard in Summerland, and Coyote Vineyard in West Kelowna. It is all hand-harvested, destemmed, and crushed into small stainless steel tanks. It is cold-soaked with skins for 48 hours to shape its reddish-pink colour and light tannins that build a bit of texture. The style is always refreshing and dry, offering cranberry, blood orange followed by rhubarb and more red fruit with a citrus wash. A food-friendly style you can drink solo, given its balance and freshness. Tasted: 16 April 2021. ~ Anthony Gismondi

87. More robust and a touch dryer than recent vintages, the 2020 Pinot Noir Rosé opens with a peach and rhubarb-scented nose with subtle notes of wet stone and lime leaves adding depth. Palate is textured and refreshing, albeit, a bit short-lived beyond its initial attention-grabbing entrance. Pair it with your next backyard picnic spread and serve it in its youth. Drink 2021-2022. ~ Liam Carrier - IconWines