Wine Reviews
(Click on the bottle to Purchase)
2018 SpearHead Pinot Noir Cuvée

92. This was compiled from five clones grown in two sites, the Golden Retreat Vineyard in Summerland and the estate vineyard in East Kelowna. It is not flamboyant at this stage but it is even, confident and quite elegant, hinting at richness but a bit shy. The fruit is between bright red cherry and something darker, with earthiness and forest in the wings, and oak nicely fitted (French oak for 13 months). It feels complete and almost seamless, tannins youthfully active but behaved, alcohol in check. Excellent focus and length. I would age it a year or two to expand, but an hour of aeration might achieve the same result. Tasted Feb 2020.
David Lawrason - Wine Align
2018 SpearHead Pinot Noir Clone 828

93. Winemaker Grant Stanley is a student of pinot noir clonal selections with many of his wines being composites of several. Here however one block of Clone 828 performed so well in the estate vineyard on the upper benches of East Kelowna in the cooler 2018 vintage that he did a separate bottling of 120 cases. There is indeed a lovely, calm almost ethereal florality, cran/raspberry ripeness and oak finesse that sends up beguiling perfume. It is medium weight, substantial yet silky with very fine if still youthful tannin. Texturally very fine, with excellent length. It is so in tune you can easily enjoy it now after an hour aeration, but also structured to live a decade. Wine Club only. Tasted Feb 2020.
David Lawrason - Wine Align
2018 SpearHead Pinot Noir Saddle Block

90. This pinot is a pure expression of its terroir on the upper benches of East Kelowna. A bit farther removed from lake effect, cooler, and sitting at almost 50 degrees of latitude. The lighter vintage is also at play. The paler colour is the first manifestation; then comes the lifted red currant/cranberry fruit, with fresh herbs and evergreen. Oak is nicely handled to the point of being barely obvious. It is bright and quite tart-edged on the palate yet beautifully textured warm and smooth as well. It is not tannic but there is a fitting green foresty edge to the finish. Can I say this, but I thought of Chianti. The length is very good to excellent. Best 2021 to 2026.
David Lawrason - Wine Align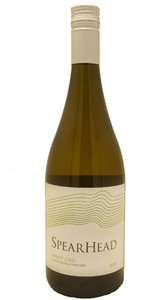 2018 SpearHead Pinot Gris

Top MyWinePal 4.5-5 Stars Wine 2019:
The wine is a lighter lemon with a green tint in colour. Quite aromatic grapefruit aroma with touches of honey, peach and bramble leaf. With decanting the grapefruit aroma lessens and you get tropical fruit aromatics. The wine is slightly off-dry, with a nice mouth mouthfeel. Medium plus body. I really picked up salty minerality on this wine. A mix of grapefruit (most), citrus, and then peach flavours. Some pepperiness on the mid-palate to the finish. The flavour profile stays the same with decanting, so no need to decant. Tart citrus and grapefruit along with some pepperiness on a long finish for this wine. Very tasty.

-

Nice grapefruit on the nose and palate, together with light peach alongside. Bright acidity and round mouthfeel.
Karl Klip - My Wine Pal
Crunchy and fresh pink grapefruit, passionfruit and tangerine mark this eminently drinkable pinot gris from Summerland's Golden Retreat Vineyard. Whole bunch pressed, this was partially fermented in French oak, with the remainder fermented cool in stainless steel. Fully ripe and balanced orchard fruit flavours are tipped with a bump residual sugar in the punchy finish. Fun and ready to drink all summer with any number of classic summer dishes, especially green curries. 88 pts.
Anthony Gismondi & Treve Ring

89. Sourced from the winery's Golden Retreat near Summerland in a cooler vintage, this is a very pale pinot gris with generous aromas of white peach, vague florals and underlying bread crust. It is medium weight, smooth with a touch of sweetness, yet nicely fresh with good acidity. I like the gentle minerality on the finish and the squeeze of lemon-lime. Very good length. Like so many BC pinot gris it's between Alsatian gris and Italian grigio in style, although a tad closer to the latter this vintage. Tasted Feb 2020.
David Lawrason - Wine Align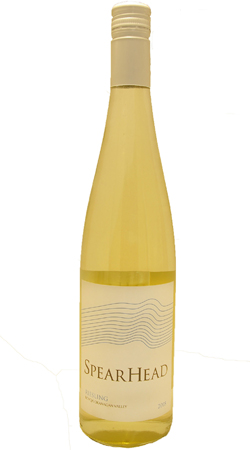 2018 SpearHead Riesling
The wine has a medium bright lemon colour with a tinge of green. The wine as a medium plus intensity nose, showing lime most, followed by peach and a hint of white flowers. With decanting you also pick up some lime skin aromas. The wine is off-dry with a fuller body and flavour intensity. The wine is round with a thicker mouthfeel and a light acidic prickle. I get mostly tropical fruit flavours, with touches of lime, peach and pear. From the start, I also noted salty minerality, which was joined with some steeliness from the mid-palate to the finish. The wine could maybe have a touch more acidity as it feels a little too soft. Medium plus length finishing with tart and sweet tropical fruit and a hint of lime.

-

Fresh lime and peach on the nose. Round with a thicker mouthfeel, showing mostly tropical fruit flavours along with some lime.
Karl Klip - My Wine Pal
Another gem of a riesling from the Okanagan, and one I was glad to see available in Alberta. Flint and granite mineral characters dominate the nose with somewhat subdued fruits letting all those layers show through. Bright acids show on the palate pushing down a smidge of sweetness. Match up with Indian or Germanic cuisine as it will handle spice and heat with style.
Tom Firth - Culinaire Magazine

91. Another riveting riesling from the northern Okanagan including the benches of East Kelowna and Mt. Boucherie in West Kelowna. It is sold out except to Wine Club members after taking not only silver at NWAC but double gold and White Wine of the Year at the All Canadian Championships. It has straight-on, intense, complex nose of peach, spice, honey, petrol and wet stone. It is medium weight (12%) with bracing acidity and a touch of sweetness. Flavours stay true and focused hitting excellent length. Tasted Feb 2020.
David Lawrason - Wine Align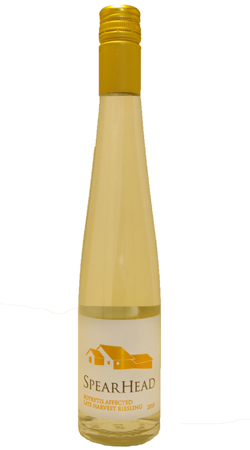 2018 SpearHead Late Harvest Riesling
The wine is a bright lemon green in colour. Medium intensity nose with aromas of lime and grapefruit, green fruit and a hint of peach. The wine is not cloyingly sweet; just right. Lighter acidity. Round, medium bodied. Some saline minerality upfront. Mostly lime flavour, followed by citrus then green fruit, and a hint of peach and orange (from the botrytis). Medium plus length finishing with a mix of tart and sweet citrus fruit flavours. A soft finish, not too acidic. A clean and fresh late harvest wine.

A delicate late harvest wine, not overly sweet, with lime most prominent on the nose and palate, followed by other citrus and green fruits.
Karl Klip - My Wine Pal
It's creamy, if not unctuous, but never cloying. Perfect for dessert. Serve well chilled.
Anthony Gismondi - Vancouver Sun
Sourced entirely from the winery's Orchard Block, the grapes were hand-harvested on November 15, 2018, after incurring Botrytis cinerea, the "noble rot" that shrivels grapes and concentrates sugars. Foot stomping and cold fermentation ensued, and the result is a lighter style late harvest wine overall. Aromas of citrus, peach, and pith lead into a sweet but bright body, with a lingering, peach gummy candy finish. Bring on the plate of salty cheese, vegan or otherwise. Bottom Line: B+ Elegant touch.
James Nevison - Vancouver Province
2018 SpearHead White Pinot Noir
The wine is pale lemon in colour. Medium plus intensity aromas with lime first being noticed then other citrus, followed by some tropical fruit and white flowers. With decanting I also picked up grapefruit on the nose. The wine is dry, round and soft with lower acidity and thicker mouthfeel. Tropical fruit flavours, with lime behind and touches of peach and lemon, and some bramble leaf. The wine has a medium length finishes with bramble leaf, peach and tart citrus, but not too tart as the wine is quite round and mouth-filling.

-

A soft round wine with a blend of lime, citrus, peach and tropical fruit on the nose and palate.
Karl Klip - My Wine Pal
Last year's attempt was exciting, but the current release is a whole lot better. A white pinot noir sounds intriguing: there's gentle, quick whole-bunch pressing, limiting time on the skins, hence it is white, not the standard red colour. The juice is cold settled and fermented to a pleasing dryness before spending time on its lees, taming any exuberant fruit characters and adding a sheen of complexity to the apple, pear, melon flavours. There is a flinty, leesy, salty character that helps to dry the finish, and this year there is very little bitterness. Ready to drink and perfect with late afternoon patio bites. 89 pts.
Anthony Gismondi on Wine
2018 SpearHead Pinot Noir Rosé
Deep salmon colour, aromas of bing cherry, strawberry, rhubarb, crisp, clean and refreshing. This has patio wine writing all over it. Superb with pasta salad, bbq salmon, rotisserie chicken, a chacouterie board. P.S. It is even better next day.
Jim Martin - First Pressings
The wine is a medium intensity reddish-orange rose petal colour. It has subtle tart red fruits, red cherries and strawberry aromatics. May also have a hint of bramble leaf. WIth decanting you get quite prominent candied cherry aromas as well. The wine is dry and round, with a thicker mouthfeel. Medium acidity. Flavours more of red fruit with lesser amounts of strawberry and red cherry, and some bramble leaf. Very light tannins mid-palate to finish gives this wine some structure. With decanting the strawberry aromas become more evident. The wine has a medium plus length, finishing with strawberry and tart red fruit.

-

A subtle Rose wine. The red fruit and strawberry flavours in this wine are understated. The more I taste this wine, the more I like it.
Karl Klip - My Wine Pal
Juicy summer strawberries, raspberries jump from this mouthwatering, likeable, pale-hued pinot noir rosé, sourced from the home Gentleman Farmer Vineyard in southeast Kelowna. The summer berry fruit rides the wave of juicy fun, buoyed by a bump of RS, to a soft finish. That said RS gives a slick of glyceral to the palate, enabling this summer delight to partner with salmon burgers. 87 pts.
Anthony Gismondi on Wine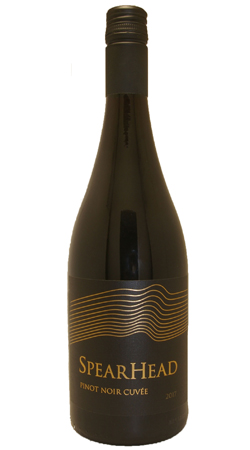 2017 SpearHead Pinot Noir Cuvee
Playing fickle counterpart to amiable Pinot Gris, thin-skinned Pinot Noir requires delicate attention in the vineyard. But with care Pinot Noir amazes, and one B.C. winery that has shown it is willing to put in the time and effort is East Kelowna's SpearHead. In relatively short order the winery has built a super serious Pinot program, focusing on site-specific terroirs matched to distinct PN clones. Their Cuvee is one example out of a handful of tasty Pinots, and their flagship bottle is sumptuous and well integrated, showing a beguiling combo of ripe berry and dried herb.
Bottom line: A, Gutsy yet silky
James Nevison - Wine Guy
Medium plus intensity garnet, that is about 50% translucent. A lighter intensity nose showing ripe raspberries, some smokiness and toastiness, a touch of vanilla, red cherries and sweet spices. With decanting the toastiness and sweet spices were not evident, but it became quite floral (violets) on the nose. The wine is dry, lower in tannins, but medium acidity and body, and above average intensity flavours. Flavours first off are floral, followed by raspberries, and red fruits, and a hint of vanilla. The lighter, fine tannins get a bit stronger toward the finish. Bigger, rounder, and more floral with decanting. Medium length finishing with medium tannins, tart red fruits, oak and some bramble leaf. The tannins finish softer with decanting and I also picked up ripe red cherry flavours.

A solid Pinot Noir with a light touch overall on the aromas and flavours on the palate. Ripe raspberries and light red cherries smoky toastiness on the nose. Very floral on the palate with lesser amounts of raspberries and red fruits. Fine tannins.
Karl Klip - My Wine Pal
There's never very much of the Cuvée because it's a small selection of winemaker Grant Stanley's best barrels. The flagship pinot mixes a variety of clones 828, 115, 667, and Mt. Eden, each hand harvested and aged separately for 13 months in 40 percent new French oak barrels. The nose is cool, with floral, red fruit and spice notes. The mid-weight palate is a mix of mineral, saline, black plums, black raspberry with just a dusting of brown spicing. Round, soft, easy sipping, it will be best drinking over the next three to five years. 91 pts.
Anthony Gismondi on Wine
This Cuvée bottling represents the winery's best barrels of its many Dijon clones blended with an eye on elegance and depth. Opening with a youthful, layered nose of creamy raspberry, forest floor, huckleberry and sweet, smoky, BBQ Salmon crackling aromas. A full, yet, lively, dry palate follows with a similar mix of sweet and savoury flavours; dark cherry, cocoa, light smoke, vanilla and a touch of spicy oak and amaretto liqueur on the long finish. Ready to go now and could evolve further in the cellar over the next 2-3 years. Drink 2019-2023. 91 pts.
Liam Carrier - Icon Wines
The aromas mingle toasty notes with plum and cherry. On the palate, the fruit is concentrated, with almost meaty flavours of plum and cherry. The polished texture will support aging – as the winery says, "careful imprisonment for 10-20 years." 95 pts.
John Schreiner on Wine
2017 SpearHead Pinot Noir GFV Saddle Block
Medium intensity, dull translucent garnet. A light smoky, cinnamon and red fruit nose (some may say cinnamon bun aroma) along with a hint of floral. The wine is dry, round, with medium body and mouthfeel. Ripe raspberry and red fruits with a touch of smoky red fruit, minerality and floral notes on the palate. Light sweet spices as well. Fine tannins. With decanting I also could taste some red cherries toward the finish. On the finish, you get a fine tannic touch, oak, light pepperiness and some bitter leaf. With decanting, I also picked up some vanilla as well. A light mouthfeel throughout along with overall light flavours.

-

Light aromas of cinnamon and red fruits, which proceed to the palate along with ripe raspberries. A hint of floral and minerality. A light Pinot Noir to enjoy.
Karl Klip - My Wine Pal
This is a friendly, supple, easy-sipping northern Okanagan version of pinot noir that will attract a large audience (private wine shops take note). What it lacks in edgy acidity and tightness, it more than makes up for it with a sweetish mix of raspberries and cherries, pliable tannins and brown spice. Very different from the other single site pinots; ready-to-drink. 90 pts.
Anthony Gismondi on Wine
Classic red fruit and cedar notes are wrapped in a blanket of cola, spice and gentle floral aromas on the expressive nose. A similar mix of flavours follow on the lip-smacking, huckleberry-kissed palate where a touch of RS and glycerol enhances the body and a friendly wave of spice flows through to the tangy, moderate-plus finish. Light tannins are ready to go now. Drink 2019-2022. 89 pts.
Liam Carrier - Icon Wines
In the glass, the wine shows good richness of colour. That sets you up for a wine with intense aromas of spice and cherries and rich, savoury flavours of cherry, blackberry, vanilla and spicy oak. 93 pts.
John Schreiner on Wine
A juicy, wild-ferment pinot with jammy concentration and notes of cherry, tobacco, spices, and cured meat. 90 pts.
Beppi Crosariol - The Globe and Mail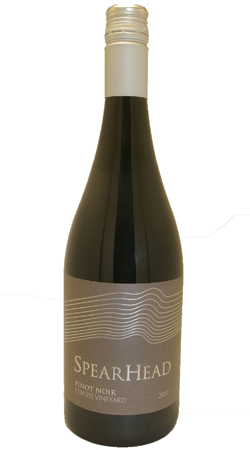 2017 SpearHead Pinot Noir Coyote Vineyard
The wine is dull medium garnet in colour; translucent rim to core. The wine has above average intensity aromatics, that are toasty smoky, bramble and red fruit, cinnamon toast, oak, sweet candied cherries and a hint of floral. The aromas for this wine ebb and flow into each other and I'd say are elusive in a good way. With decanting you get floral plus lots of red fruit aromas, some bramble, and no cinnamon toast. The wine is dry with medium body and tannins, but above average acidity, giving it an angular mouthfeel. With air, the mouthfeel becomes thicker and rounder, and the wine tastes slightly off-dry. Flavours of sweet red fruit, sweet red cherries, and floral, with a touch of oak and minerality. With decanting you get much more intense floral and red fruits on the palate. Medium plus length finishing floral and peppery along with candied red cherry flavour and some cinnamon at the very end. The amount of floral and red fruits and the thicker, rounder mouthfeel with air, makes me feel like I'm tasting two different wines. I think decanting is the way to go with this wine.

-

Lots of floral and red fruit aromas and flavours with decanting. Thicker rounder mouthfeel as well.
Karl Klip - My Wine Pal
The wine begins with aromas of red berries and oak. Silky in texture, the wine has flavours of strawberry, raspberry and cherry. 93 pts.
John Schreiner on Wine
Rich spicy, toasty notes with a whiff of reduction that disappears with time in the glass is imbued with cherry, raspberry, forest berry and intense, dried thyme. Well balanced this medium bodied pinot is spice and scented by pink-peppercorns and roses. The tannins are gentle and well integrated, and the acidity rises to match its 14-degree frame of alcohol. A lovely new addition to the Spearhead, eccentric, single vineyard pinots. Drink or hold through 2022. 89 pts.
Treve Ring & Anthony Gismondi on Wine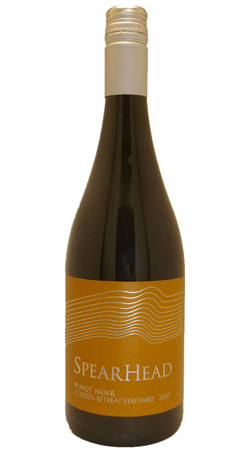 2017 SpearHead Pinot Noir Golden Retreat
Deep garnet, around 80% opaque in colour. Light intensity "closed" nose, with tomato, black cherries and red fruit aromas. Decanting still left a light intensity nose, but I did get a hint of oak. The wine is slightly off-dry, round with fuller body and flavour intensity and thicker mouthfeel. Quite mineral, along with flavours of ripe cherries, raspberries, and floral. Some milk chocolate flavour behind the fruit flavours on the mid-palate. Light oak and fine tannins. With decanting you get lots of floral perfume from this wine. Medium plus length finishing pepper, with tart black and red fruits and oak flavour. A little firmer tannins that fade quickly. The tannins last longer with decanting. I think this wine may be at an awkward stage in this evolution in the bottle. Either cellar it for a few years, or decant before drinking.

-

Closed nose with some black cherries, red fruits and oak. Thicker mouthfeel with quite a floral, along with red fruit, raspberry and red cherry flavours with decanting.
Karl Klip - My Wine Pal
This is a full-bodied wine that will age well. It begins with dramatic aromas of cherry, dark fruits, earthy spice, even hints of red licorice. On the palate, the luscious fruits include plum and strawberry. 92 pts.
John Schreiner on Wine
Darker raspberry, black cherry, dark earth is carried on the medium-bodied, cool palate to a savoury, Worcestershire-scented finish. There's a welcome tart acidity to lift this easily to the finish making it very food-friendly. A lovely wine for duck or rabbit. 90 pts.
Anthony Gismondi on Wine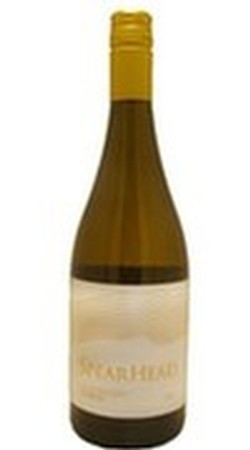 2017 SpearHead Chardonnay Clone 95
Medium plus intensity bright lemon with a green tinge colour. Medium intensity, lifted complex aromatics of grapefruit, light lees, lemon, honey, bramble leaf, and hints of orange, vanilla and apple. With air, this wine had deeper riper aromas of apple and pears. Very enjoyable aromatics. The wine is dry, round with a rich, thick mouthfeel. Medium acidity that leaves you with a slight prickle in your mouth. Pears and apples mainly with lesser citrus, lime skin and a touch of bramble leaf, oak and vanilla. Buttery mid plate to the finish. With decanting the flavours really showed ripe pears and apples, along with some tropical fruit, while the lime skin aroma disappeared. Medium plus length that finishes with tart citrus skin and pith, some leafiness and pepperiness, and a hint of vanilla at the very end. You can drink this wine now, but it can also be aged 3-5 years for more complexity.

An exceptional quality Chardonnay. Complex aromatics; grapefruit, apple, vanilla and bramble leaf. Full, thick, rich and round on the palate. Apple, pears and citrus with a touch of oak and vanilla.
Karl Klip - My Wine Pal
With grapes sourced from a vineyard on the Naramata Bench and from their home vineyard in East Kelowna, this Chardonnay, compiled of 100% clone 95 vines, offers a sensual and vibrant nose with rich, stone and citrus fruit aromas and a susurrus of macadamia nuts and green pineapple. A mouth-watering and RS-kissed, full-ish palate follows with a similar combination of bright and juicy fruit flavours and a wave of mineral and spice notes on the long finish. Should hold for 2-3 more years, if desired, but ready to go now. Sealed with a Stelvin cap to lock-in freshness. Drink now-2022. 89 pts.
Liam Carrier - Icon Wines
This barrel-fermented wine, made from a low-yielding French clone, begins with aromas of citrus, apple and vanilla. The wine is rich and creamy on the palate with flavours of citrus, apple and stone fruit. The alcohol is 14.5%, no doubt accounting for some of the power of this wine. 91 pts.
John Schreiner on Wine

92. From vineyards in East Kelowna and Naramata this 100% barrel fermented chardonnay took Gold at both national competitions. According to winemaker Grant Stanley Clone 95 from the Cote d'or in Burgundy is the go-to clone for top BC chardonnays, and one nose to the glass reveals that classic ripe pear/peach fruit of top Burgundies, packed with peat smoke, hazelnut, vanilla cream and baguette leesiness. It is certainly rich, generous and intense on the palate, and a touch sweet, but maintains equilibrium and a sense of freshness. The length is excellent to outstanding, with fruit staying in focus and keeping its cool despite 14.5% alcohol, while gentle brown spices and toast add to the complexity. This is splendid chardonnay. Tasted Feb 2020.
David Lawrason - Wine Align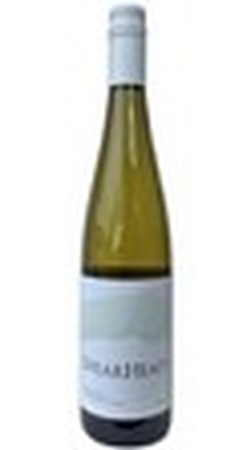 2017 SpearHead Riesling
The Germans would call this a racy wine and would cellar it five to 10 years. The 7.8 grams of acid are balanced with eight grams of residual sugar, just enough to give the wine the palate tension one looks for in a good Riesling. It has aromas and flavours of lime, along with a steely spine of minerals. 91 pts.
John Schreiner on Wine
A crisp and raw Riesling with a youthful and masculine bouquet of citrus fruit rinds, peach stones, stainless steel and light, unpasteurized honey aromas. The tart palate offers similar notes showing great consistency from the nose with plenty of tense, lemon/lime and green apple acidity and finishing dry despite the 8g/l of residual sugar. Lingering, lemon thyme and lime zest flavours last through to the last sip. 89-90 pts.
Liam Carrier – Icon Wines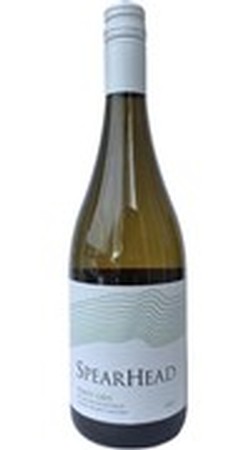 2017 SpearHead Pinot Gris
Ten percent of the juice was fermented in two-year-old French oak barrels while the rest was cold fermented in stainless steel. It has aromas and flavours of peaches and pears with a crisp and dry finish. The winery says drink this "now or cellar for 3 to 5 years." I would rest it for two or three months for optimal development of aromas and flavour. 90 pts.
John Schreiner on Wine
The grapes for this pinot gris are sourced from the warm and sunny Golden Retreat Vineyard near Summerland. The result is a deliciously flinty and herbal pinot gris with dominant fruit notes of pear and citrus. 89 pts.
Heather Rankin – Wine Align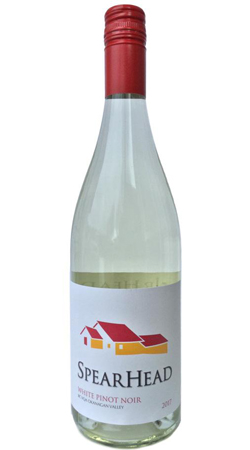 2017 SpearHead White Pinot Noir
It is not easy to make a white wine from red pinot noir grapes. Nor is it common to do so. But the process, which involves fermenting clear juice away form the dark, colour bearing skins, can pay dividends, as it has for some Oregonian wineries and, now, for SpearHead in The Okanagan. This is a pale yellow, resembling an Italian pinot grigio. Very dry and crisp, it shows lemon, pear and lemon fruit accompanied by an uncanny aromatic quality of stone dust (as being downwind from a working quarry). Let it warm slightly after you pull it from the fridge; it opens up. 89 pts.
Beppi Crosariol – Globe and Mail
White Pinot Noir is rarely made but when you taste this crisp and aromatic white, you will wonder why more is not made. It is made from essentially free run juice after gently pressing whole bunches. It begins with aromas of apples and white peaches, which are echoed on the palate. The lively acidity, balanced with a touch of residual sugar, gives lift to the savoury flavours. 91 pts.
John Schreiner on Wine
A pinot noir harvested for its white wine potential from multiple sights in the Okanagan Valley, carefully pressed to minimize any skin contact producing a brilliant, near colourless, ultra aromatic Summer sipper. Full(ish) and rich in texture and depth, yet, very well balanced by fresh apricot acidity. Look for a medley of orchard fruit aromas and flavours and serve confidently on its own or pair it with halibut. Citrus peel notes and a hint of spice linger on the long finish. 90 pts.
Liam Carrier – Icon Wines
2017 SpearHead Pinot Noir Rosé
The pretty strawberry-pink colour hints at the uncanny strawberry flavour in the bottle. A superbly balanced, lip-smacking dry wine, it also offers a note of refreshing watermelon. 91 pts.
Beppi Crosariol – Globe and Mail
This wine was made with subsequent pressings of the grapes used for the White Pinot Noir. The wine's delicate rose petal hue is the result 48 hours of skin contact. It begins with aromas of raspberries and has flavours of raspberry and strawberry. It is balanced to finish dry. 90 pts.
John Schreiner on Wine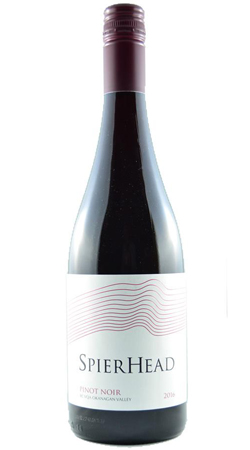 2016 SpierHead Pinot Noir
The Spierhead pinot white label is the winery workhorse, responsible for about 60 percent of the production and frankly it has settled into a reliable, authentic drop of pinot noir. It's crafted to reflect the Spierhead house, one I have said on other occasions is more Oregon than California, with a nod to Burgundy. Far less heat in 2016 has allowed the lighter, fresher, cooler style to return. It spends a less than a year in wood allowing it to come out of the barrels with juicy, bright red berry fruit aromas and flavours with a hint of savoury underbrush, compost and licorice. All you could want in a ready-to-drink easy-sipping style point noir that we have only come to know in the Okanagan. Veal chops, pork and or grilled salmon all work here. 89 pts
Anthony Gismondi - Vancouver Sun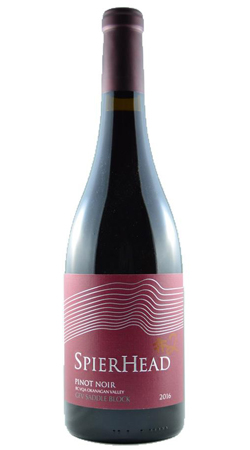 2016 SpierHead Pinot Noir GFV Saddle Block
Gentleman Farmer Vineyard, Spearhead's East Kelowna home vineyard, is shaped like a saddle, hence the Saddle Block label moniker. In 2016 all the original plantings of Dijon clones 115, 777 and 828 made it into the wine blended 70/15/15. This has much wider appeal in 2016 with soft, slippery, supple fruit redolent in strawberry, tea and cherry notes, and with cinnamon and star anise in the back end. Tannins remain gentle. Think salmon sushi, pork belly or cedar plank grilled salmon. 90 pts
Anthony Gismondi - Vancouver Sun
Lots of interest here from the start. Pepper and cola spice with a light herbal character all play to one another harmoniously. Firm in its youth, this wine will evolve over a short period with its savoury and floral nature revealing itself more and more. 92 pts.
Brent Muller – Wine Align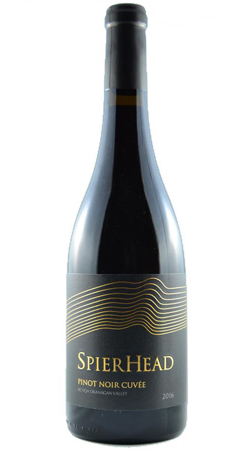 2016 SpierHead Pinot Noir Cuvee
SpierHead Pinot Noir Cuvee is a selection of the winery's best barrels. It's always made in limited quantities and it disappears fast. In 2016 the mix is 35% Dijon 115, 25% Dijon 667, 25% Dijon 828 and 15% Pommard. The nose is a savoury mix of dried herbs, tea, beef au jus, and the flavours are dry dark plums and cherries followed by smoke and oak. Rich and robust but with just enough restraint to still be Pinot-like. 91 pts.
Anthony Gismondi – Vancouver Sun
The Cuvee is a blend of Dijon and Pommard clones from the winery's East Kelowna estate vineyard and successfully expresses the uniqueness of the terroir along with classic BC Pinot characters. Look for typical aromas and flavours of creamy raspberry and tangy cherry fruit, sweet earth and vanilla, finishing with a long touch of spice and Black Forest Cake notes. 90pts.
Liam Carrier – Icon Wines
Aromas of dried herbs and rose petal, Bing cherries and a hint of sassafras. The palate is bright and lively with elegant tannins. Flavours of ripe plum and cherry with savoury notes and a whisper of toasty oak make for a bold Pinot Noir with enough restraint to maintain that desirable Pinot Noir verve. 91 pts.
Alanna McIntyre – Wine Align
Deep garnet, dull in colour; again the dullness from being unfined and unfiltered. Medium intensity nose, youthful with aromas of bramble, bramble leaves, red fruit, raspberry, and lesser amounts of black fruit, cedar, vanilla and nutmeg. With decanting the raspberry aroma takes on a smoky character, and the cedar component decreases. Dry, and round, light bodied, with medium acidity and tannins. Smooth with an acid backbone. Flavours of raspberry and red cherry, with the fruit becoming sweeter mid-palate. There is also some perfume on the mid-palate. The wine with decanting becomes more prominent with cherry and perfume, as well as some chocolate. Medium plus length, finishing with sweet and tart red fruit, along with bramble fruit and some bitterness. Finishes light and airy, with soft tannins. With decanting, overall the wine is fuller bodied, with more cherry flavour, and a peppery finish. An elegant, feminine pinot noir.

Karl Klip - My Wine Pal

92. Tasted a bit later in its life, this fine pinot is showing garnet red evolution and a slight haze, which suggest non-filtration (common with this grape). The nose has reached a state of grace where sour red cherry and plum fruit ebbs and flows with florals, wood spice and considerable B.C. herbality, which is somewhere between dried herbs and pine needles. It is medium weight, soft and almost plush with moderate acidity and very fine tannin. It is warm but not hot, with excellent length. Ready to drink and should maintain for three to five years. Comparatives stray more into Oregon here, even California, not because it was a blistering summer overall, but early warm weather did prolong the ripening. Tasted Feb 2020.
David Lawrason - Wine Align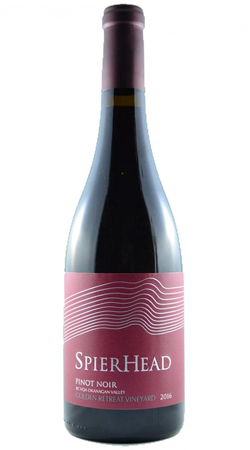 2016 SpierHead Pinot Noir Golden Retreat
Very charming with lots of appeal. The wine shows a very juicy and likeable character. It is softly structured and will provide immediate pleasure over the next couple of years. 89 pts.
Brad Royale – Wine Align