TTWC SpearHead Holiday Pack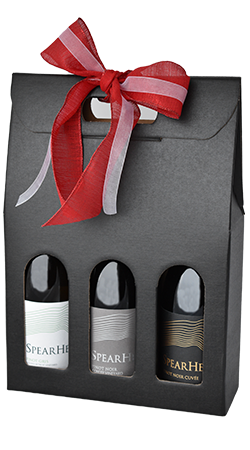 With this exclusive TTWC SpearHead Winery Holiday Gift Pack, you (or your gift recipient) will receive one bottle of each of the following wines:
2020 Pinot Gris (Golden Retreat Vineyard, Summerland)
2019 Coyote Vineyard Pinot Noir (Gold Medal 2021 National Wine Awards of Canada)
2019 Pinot Noir Cuvée (Platinum Medal 2021 BC Lieutenant Governor's Wine Awards)
Your bottles will come in a light tote box with a Wine Card from TT Wine Counsel setting out a bit about the vino and a few pairing ideas.
Want to share the love and give the gift of wine? SpearHead will include a handwritten note with your message when sending the gift pack to your recipient.