2019 Pinot Noir Saddle Block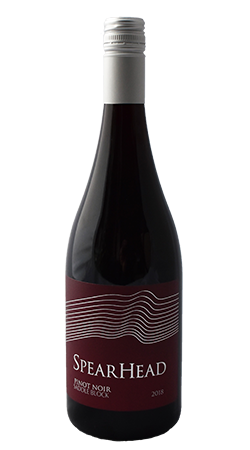 Source
Fruit sourced exclusively from the Saddle Block on our estate in South East Kelowna.
Winemaking
Pinot Noir clones 115, 777, 828 & 667 are separately hand harvested, destemmed and kept cold for 5-7 days before fermentation by indigenous yeasts commences. The time on skins is 16 to 21 days. After gentle pressing the wine is matured in French oak barrels for 13 months (25% new).
Tasting Notes
A luscious wine with ripe dark fruits and bright floral aromas. Meaty nuances and fresh earth notes following the concentrated dark cherry flavours. Fine velvet texture and endurance on finish. Pairs well with grilled food.
Drink now or cellar for 8 years.
Production
450 cases produced.
Awards

Platinum - 2021 BC Lieutenant Governor's Wine Awards


Gold - 2021 National Wine Awards of Canada


Silver - 2022 Decanter World Wine Awards
Reviews

90. Appearance: Bright. Semi-opaque. Medium ruby colour. Nose: Violets, dark cherry, raspberry, and a hint of smoke and black pepper. Palate: Medium acid, medium+ tannin, medium body. Dry. Black pepper, dark cherry, cassis, smoke, cedar, and a slight vegetal note on the finish. Well balanced. Quality: 90 points. Drink now or hold 3-4 years. Food Pairing: Southwestern-style ribs, Szechuan tofu and veggies, cheesesteak stuffed peppers, pappardelle with rabbit & chestnut ragù, and chicken tikka masala with basmati rice. ~ Tony Aspler - My Wine Canada

92. Drinking this beautifully fresh and balanced Pinot Noir feels at the crossroads of the "New World" and the "Old World". A touch of earthiness and spices connect amazingly with the sweet dark cherry, mocha and black forest cake of the mid-palate. This is a young wine that can develop into a superstar over time. There is a bright acidity sitting all the way across the palate and the very long finish has a unique complexity. Pairing: spicy duck, pork tenderloin. Drink between 2022 and 2028. ~ Carl's Wine Club

93. Of the three single vineyards, Spearhead makes, the Saddle Block shows the most restraint on the nose. Notes of dried cedar, dusty earth, salty bacon fat and beet greens are layered with red plum, sour cherry and red current aromas. The palate shows nice suppleness and pretty fruit. Nicely woven, a lovely mouth on this wine. Like all three of the single vineyard Pinots, decanting is recommended. ~ Daenna Van Mulligen - Wine Scores

93. Saddle Block is estate fruit in Southeast Kelowna and while the elévage is the same (as Coyote) the specs are a bit different on this wine. Higher brix and pH (warmer site) and just about the same acid energy though richness and depth are this pinot's strength. Moves from one set of fortitude to another, initializing with righteous execution in extraction of optimally ripened berries. Travels across the palate with silken ease, unperturbed in spite of those strong structural urges, first and foremost created by balls of bouncing acidity. More sonorous depth indeed, if less excitable energy, as compared to Coyote. Wait a year and finish your bottles sooner. Drink 2022-2025. Tasted June 2021. ~ Michael Godel - Wine Align

93. This is from the home estate vineyard in East Kelowna, which fast earning a reputation as prime pinot territory in B.C. This is quite deeply coloured with a soft, ripe nose black cherry, raspberry, rose-like florality, fine toast, spice and vanillin from ageing in French oak for 13 months. It is medium weight, quite plush and rich with lower acid and fine tannin. Some warmth here. The length is excellent. Tasted June 2021. ~ David Lawrason - Wine Align

91. The nose is high toned, with both red and darker fruit and a light floral twist, also with a subtle beeswax edge, almost medicinal. The palate is quite broad and mouth-coating, with acids and tannins in balanced measure, neither high, providing framework around modest flavour intensity on the mid-palate and length on the finish. Seems to lack a bit of stuffing and complexity relative to the Coyote Vineyard bottling, though it's very well made to be sure, these comments part of the privilege and responsibility of tasting Spearhead's three single vineyard bottlings side by side. It's an exercise I'd heartily recommend. Tasted June 2021. ~ John Szabo, MS - Wine Align

92. The Saddle Block pinot noir, made in an unfiltered style, hails from the benchlands of southeast Kelowna at significant elevation. Offering and elegant and notably complex aromatic character with notes of cherry skin, rosebud, pink peppercorn and old wood. The palate is bright and juicy, well defined with moderately grippy tannins and brimming with clean, youthful fruit. Complex and dynamic. Tasted June 2021 ~ Sara d'Amato - Wine Align

93. Bright and intense red berry nose and palate. Medium bodied and juicy with supple tannins and great fruit concentration. A long savoury sour cherry finish. ~ Janet Dorozynski, DipWSET/PhD - Wine Align