2019 White Pinot Noir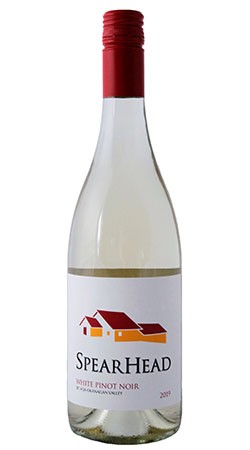 Source
Gentleman Farmer Vineyard in South East Kelowna
Golden Retreat Vineyard in Summerland
Coyote Vineyard in West Kelowna
Winemaking
Gentle whole bunch pressing with minimal skin contact gives the wine its pristine clarity. Naturally cold settled juice is fermented dry in small stainless-steel tanks.
Tasting Notes
Aromas of honeydew, elderflower and beeswax flood the nose, followed by stone fruit, mineral, and summer grass on the palate. Finishes with mouth watering lime and racy acidity. Enjoy now or cellar 3 to 5 years.
Production
437 cases produced
Reviews

91. First off let's quash any skepticism that this is some cheap "white zinfandel" copy cat. Think of it more as "Blanc de Noir" Champagne, without the bubbles. I first encountered white pinot noir in the northerly Ahr Valley of Germany which sits on the same 50th degree of latitude as Kelowna. I loved its mouthwatering tension, which is exactly what comes across in this bracing wine. It has fairly generous aromas vague toast, grapefruit and herbs. It is mid-weight, firm edging to austere, but just so complete and satisfying. And the length is excellent. Winemaker Grant Stanley only works with pinot noir in terms of red grapes, and he has captured something here. Tasted March 2020 ~ David Lawrason

89. This wine gets better every year, albeit in a fun way. It's not a Montrachet-like chardonnay, but it is a delicious summer sipper made with pinot noir but pressed off its skins, hence the white pinot noir moniker. The juice is cold settled and fermented to a pleasing dryness before spending crucial time on its lees, which tends to knock down the silly fruit aromas and flavours. The result is a slightly more complicated, northern Euro-style white full of pear, grass mineral, melon. The finish is a salty, dry, leesy affair that calls for food. Ready to drink and more fun than ever. These are the labels that can set a winery apart from its competition Tasted March 2020. ~ Anthony Gismondi on Wine
This wine has a bright medium intensity lemon colour with a slight green tint. It has a pronounced youthful nose showing a mix of lime, stonefruits and white flowers, and a touch of oranges. This wine is dry with higher acidity, fuller body and pronounced flavour intensity. Although it has higher acidity this wine is very round and has a nice silky mouthfeel. Lots of ripe stone fruits, tart citrus and oranges with some apple toward the finish. Also some stoniness but not too prominent. Within a short 5 minutes of time in the glass, the flavours were quickly evolving into tropical fruits. The stony minerality is joined with salty minerality. Acidity provides the structure to this wine. It has a longer lingering stonefruit and citrus finish with a touch of pepperiness and tannins. Buy this wine; it's delicious. BC fresh fruit in a glass. No decanting needed.


-

A delicious, delicate wine with stone fruits, citrus and white flowers on the nose and a mix of stone fruit and tropical fruit flavours, along with some minerality. ~ Karl Kliparchuk - My Wine Pal